We would like to announce the results of the 43rd Irino Prize in 2021. The Selection Committee was held on 10 October, 2021 at the NPO JML Yoshiro Irino Music Institute, Tokyo.
---
The result of the 43rd IRINO PRIZE
for Chamber Music, 2021
"Durant l'eternite de Timee" (9 min)
Composer : Demian Rudel Rey (1987, Argentina)
"Voyage" (8 min)
Composer : Zhuosheng Jin (1991, China)
Award: 200,000 Japanese yen( is shared)
---

Profile of Demian Rudel Rey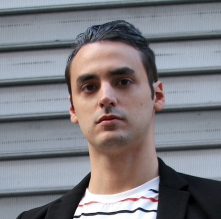 Demian Rudel Rey, native of Ciudad de Buenos Aires and currently living in Lyon, obtains a DEM and a DNSPM in guitar. After a BA in composition and a Masters in Arts combined at UNA [Argentina], he validates his Masters in instrumental composition and his Artist Diploma at the CNSMDL and his composition traineeship at KUG. Shaped by the courses and seminars of prestigious composers, he receives in particular the advice of Philippe Hurel, Martín Matalon, Franck Bedrossian, Yann Robin, José Manuel López López who strongly marked him in his compositional thought. Demian dedicates his production as a composer to instrumental, mixed, electroacoustic music as well as visual music. For the development of his composition projects, he has received the support of Centre International Nadia et Lili Boulanger, Salabert Foundation, SACEM, Mozarteum Argentino, FNArtes, BECAR… The electrifying energy of his work has enabled him to obtain Ivan Juritz Prize [GB], Fondation Salabert Prize [FR], Sond'Ar-te [PT], Musicworks [CA], Matera Intermedia [IT], CICEM [MC], Destellos Foundation [AR], Musique en roue libre [FR]. His professional experiences have led him to work with ensembles such as the Court-Circuit, Proxima Centauri, EOC with Bruno Mantovani, quatuor TANA, Barcelona Modern, AuditivVokal Dresden, Reconsil, Margarethe Maierhofer-Lischka (Schallfeld Ensemble), Atelier XX-21, CNSMDL's orchestra conducted by Roberto Forés Veses, Ensemble Écoute, Emily Carr String Quartet, Quartetto Mitja, Ensamble TROPI… Recently he premiered a chamber opera – "Qu'est-ce que l'amour ?" – with an ensemble he created in Lyon.. His future projects include collaborations with Festival Ensemble(s) [2e2m • Cairn • Court-circuit • Multilatérale • Sillages], Proxima Centauri, JJAF, Ensemble Ars Nova, Imaginaire, Accroche note…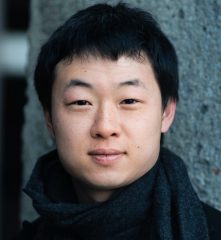 Profile of Zhuosheng Jin
Zhuosheng Jin's music is described as "powerful" and "haunting" (The New York Times). His composition emphasises relationships between literature, especially poetry, and sonic texture. He wins the 2020 Matan Givol Composers Competition (1st prize, Israel), 2020 Salvatore Martirano Award (1st prize, US), 2019 Toru Takemitsu Composition Award (3rd prize, Japan), among others.
Jin's music has been programmed in more than 20 countries. He wrote for the Tokyo Philharmonic Orchestra, Ensemble InterContemporain (soloists), Klangforum Wien (soloists), Meitar Ensemble, Quatuor Béla, Ensemble Mdi, Syntax Ensemble, and Mivos Quartet, etc., and has worked with conductors including Pierre-André Valade, Jean-Philippe Wurtz, Guillaume Bourgogne, and Kanako Abe, et al. His scores are published by BabelScores France.
Having begun to study piano at the age of seven, and then composition at thirteen, Jin holds degrees from Oberlin College (BM '15) and Boston University (MM '17) and is currently a DMus. fellow at McGill University with Philippe Leroux. He also followed private lessons and master-classes with Helmut Lachenmann, Beat Furrer, Pierluigi Billone, Marco Stroppa, and Stefano Gervasoni, et al.
---
Total of Entries: 15 compositions from 5  countries for the 43rd
Jury: Satoshi TANAKA(Chair), Takayuki RAI , Mari TAKANO, Masahiro MIWA, Haruyuki  SUZUKI, and Rica NARIMOTO